Cryptocurrencies have become one of the most popular ways to invest in 2022, because of the growth of the crypto market and the ease at which you can make trades.
So can you lose more money than you invest with crypto?
Technically, you can't lose more money than you invest with crypto, but the cryptocurrency that you invest in can decrease in value.
The only way that you can lose your money is by selling your crypto at a lower value than what you bought it for. In other words, you only lose money or make a profit when you sell.
The unfortunate truth about the crypto market is that it isn't very stable. Prices fluctuate all the time and it's incredibly difficult to predict whether any specific cryptocurrency will improve in value or lose its value.
In this article, we will unpack everything that you need to know when considering if you should invest in crypto or not.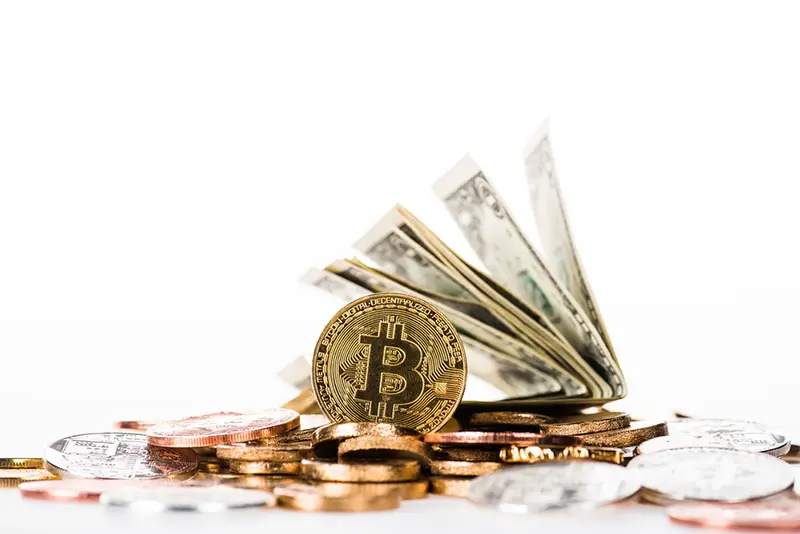 Can You Lose All Your Money In Crypto?
It's been almost five years since Bitcoin truly became a household name. In December 2017, the price skyrocketed to just over $20,000, and early investors who may have bought their Bitcoin for a couple of dollars a few years prior were elated and screaming about "going to the moon".
But, as the party went on, the value plummeted to just over $12,000 later in the month and eventually fell to under $7,000 by March 2018.
So, if you have invested a whole lot of money in Bitcoin in early December, it would have been worth less than half the price that you bought it at just a few short months later.
So you wouldn't have lost ALL of your money, but you would have lost a substantial amount if you sold your Bitcoin.
However, if you kept that Bitcoin and didn't sell it, it would be with more than double its value at the time of writing and as much as triple its original value by November 2021!
That's a fantastic return for any investment, and stories of monumental returns on investment for cryptocurrencies are incredibly commonplace.
So, when you're asking if you can lose more than you invest in crypto (let's say you put in $50). You might invest that $50 in exchange for  0.0011BTC.
The only way that you would lose all your money in crypto is if the value of that cryptocurrency drops to zero and the cryptocurrency goes out of circulation – which, in Bitcoin's case is incredibly unlikely.
However, the value could drop… fast. Your 0.0011BTC may only be worth $25 overnight. But, where you actually lose your money is if you sell your Bitcoin at that price.
Bitcoin's value tends to drop drastically. But it also rises drastically. So your $50 worth of Bitcoin could also increase to $100 in value overnight.
The trick, as with trading any asset, is to know when to buy and sell. This requires a lot of market research.
Or you may believe that a certain crypto asset will be worth a lot more in the long term… Like somebody who may have bought Bitcoin for a few dollars a decade ago.
However, one sure-fire way to lose crypto is by revealing the private key to your crypto wallet to another person, whether by mistake or if you get hacked.
So you need to be as protective as you can over your wallet and your private key specifically.
So, you can lose all your money in crypto, yes. But it's highly unlikely for it to diminish all the way to $0. Therefore you need to educate yourself and make predictions about where the price is going.
But you will only make your profit or loss the day that you sell your crypto.
Otherwise, it's simply an asset that you can use as a means of exchange, to buy another crypto, or for arbitrage.
Crypto is a great way to achieve financial freedom and you should leverage it as a potential means to earn a passive income through trading.
Can You Go Into Debt With Crypto?
The only way to go into debt with crypto is if you take out a loan (in dollars) or finance your purchase of crypto in a similar way.
But, crypto will never take on a negative value, so you won't incur any debt following your purchase of crypto assets on a cryptocurrency exchange.
5 Steps To Prevent Losing All Your Money On Crypto:
1.   Do Your Research
The best way to keep your money and your crypto safe is to familiarize yourself with exactly what cryptocurrency and the blockchain technology that powers it is.
This means that you need to also understand the market mechanisms, and you need to do your research on the crypto that you're investing in.
Bitcoin, Ethereum, and a few other tokens are fairly reliable and sound investments, but some of the lesser-known coins may not be.
Cryptocurrencies and the crypto market are incredibly complex. Even one big news story or market development can be a major game-changer.
And, as we've said, the market is highly volatile. So ensure that you have all of the necessary knowledge to make smart decisions with your investment strategy
2.   Manage Your Expectations
One of the biggest problems that many crypto investors encounter is that the market is often considered a "get-rich-quick" scheme.
But the fact is that the market has become saturated. And the frontier investors from 10 years ago may have made hundreds of thousands of dollars, but you're unlikely to see the same returns. Don't expect to "go to the moon" and to be buying a Lamborghini in a year.
The chances of that happening are astronomical.
Be patient with your investments; monitor the market and make smart decisions with a long-term strategy in mind.
3.   Avoid Sh*tcoins
There are literally thousands of crypto tokens out there and many businesses have capitalized on the way that crypto has made it so easy to invest.
And they're riding the wave of popularity that crypto markets have experienced in the last few years.
But many of these businesses are running on unsustainable business models or offer no real product or service at all. Billions of dollars have been lost to businesses that make grand claims, only to fail or be exposed as a scam.
So stick to reputable cryptocurrencies like Bitcoin, Ethereum, Ripple, and other tokens that have high trading volumes.
4.   Don't Sell Too Fast!
If the value of your crypto plummets, don't rush to sell it!
Don't be like the person who bought Bitcoin in December 2017 and sold it in a panic in February. If you believe in the token that you've invested in.
Give your crypto some time to bounce back. You only make a loss if you sell and selling in a panic will cost you when you could've just exercised a little patience.
5.   Look After Your Wallet
The only way to gain access to your wallet, which contains your crypto is through a long series of numbers and letters known as your Private Key.
Entering this key allows you to access your wallet. And note that it's not the same as your public key or wallet address.
You share your wallet address to receive payments, but NEVER reveal your private key to anybody! Because that's how you lose all your money in crypto.
Related Questions:
If Bitcoin Crashes Do I Owe Money?
No, if Bitcoin crashes you won't owe anyone money – unless you've taken out a loan to buy your BTC. Rather the Bitcoin that you own will become worthless.
You will go from having $50 worth of BTC to having a far smaller value of BTC and can only sell it for $5 for example. But you can't incur any kind of debt.
Can You Lose More Than You Invest On Binance
If you're investing in the popular trading platform, Binance, you can invest a particular dollar amount in the crypto token of your choice.
If that coin loses its value, you will lose that particular dollar value because nobody wants to buy a bad crypto asset (or they'll buy it from you at a significantly reduced price.
But you won't be losing more than the dollar amount that you invested.
Can You Lose More Money Than You Invest In Ethereum?
If you're buying Ethereum (ETH) crypto tokens, the same concept applies. You could buy 1ETH for approximately $3,000.
That price could go up or it could go down. But you'll still have your 1ETH at the end of the day, unless you sell. But the value of an ETH token will never be negative.
So, no, you can't lose more money than you invested in Ethereum.
Conclusion
If you're investing in the cryptocurrency market, you may want to know whether you can lose more money than you can invest.
And the answer is that you will never lose more than you invest. You can certainly make a loss, though.
But the only way that you make a loss is if you sell. Bitcoin and other crypto tokens have proven time and time again that they will bounce back from market "crashes" only to rise beyond their original peak price.
So, always bear in mind that you don't lose or make anything until you sell.
Sources
https://scholarlyoa.com/lose-money-than-invest-in-cryptocurrency/
https://www.thetimes.co.uk/money-mentor/article/invest-bitcoin-cryptocurrencies/
https://www.reddit.com/r/BitcoinBeginners/comments/7sxfw9/can_i_lose_more_than_i_invest/